Posted in
JIMMY ON MOVIES: Thoughts on Films, The Folks Who Make Them, & Those Who Love Them
,
MOVIES TO REMEMBER: The ol' favorites that The Lunch Movie kids might have watched had the tradition continued...
on December 31st, 2009 by Jim Delaney
I won't presume to insist that this list is The Best of 2009, if for no other reason that there was so much that I missed in 2009. I really wanted to see big Hollywood movies like TERMINATOR: SALVATION, quieter indy movies like ADVENTURELAND, and foreign fun like O'HORTEN, but sometimes they fall through the cracks. Here are the ones that grabbed me:
10. HARRY POTTER & THE HALF-BLOOD PRINCE, directed by David Yates. The HARRY's had me wondering after the ho-hum GOBLET OF FIRE in 2005, but ORDER OF THE PHOENIX in 2007 gave me hope that they were back on track. They definitely were — HALF BLOOD PRINCE is so solidly conceived that I'd say you could enjoy it even if you'd never seen a HARRY movie. I can't think of another film series where characters actually evolve to this degree from one installment to the next. This feeling of watching these kids grow up grounds the fantasy elements in something more real and poignant than most straight dramas can hope for.
9. PIG HUNT, directed by James Isaac. What's the point of making one of these lists if you can't include one guilty pleasure? A 3,000 lb giant monster wild pig isn't enough to get you in the theater? How 'bout a cult of mostly nekkid completely stoned hippy chicks, and we'll throw in Les Claypool as the leader of a chopper-ridin' Bible quotin' inbred family of hellions?! If GRINDHOUSE had been a triple-feature…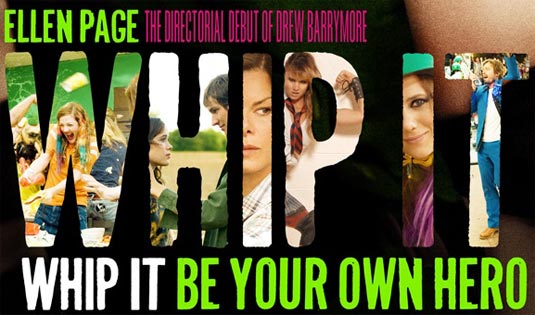 8. WHIP IT, directed by Drew Barrymore. I expected this movie to be fun and Ellen Page to be great, but I was not prepared for how well written it was, nor for how seamlessly Drew can toggle between family drama, teen hilarity and roller-rink mayhem. Page and the entire cast were committed to every funny, sad and angry note. John Hughes must be smiling from heaven.
7. INVICTUS, directed by Clint Eastwood. For all who say "they don't make 'em like they used to," I'd answer "Find someone who's been makin' 'em since they made 'em like they used to!" One of Clint's great strengths as a director is that he trusts and encourages his cast, his crew, his composers, everyone to do their absolute best. Then he films it when they think they are still rehearsing. There is nothing sappy about making a movie with a message that "Yes we can all get along" when your story is about the intelligence and courage it takes to make the first steps toward the goal. …No pun intended. Seriously.
6. UP, Directed by Pete Docter & Bob Peterson. The opening ten minutes of UP contain some of the most luxuriously nuanced animation, in terms of character and location and tone, that Pixar has ever offered. And then they keep doing it! Coming to terms with Loss and Death have been staple themes of films aimed at children and families since OLD YELLER, but it is rare that they get it so right and still leave you smiling.
5. FOOD INC., directed by Robert Kenner. One might argue that this is more a piece of journalism than film-making. Maybe so. Kenner gets plenty of people on record discussing the pros and cons of many facets of a divisive issue. That is what a good journalist does; that is what FOOD, INC. interviewee Eric Schlosser did with his book FAST FOOD NATION. Kenner chose film as his medium, and the medium and the message are better for it.
4. FIVE MINUTES OF HEAVEN, directed by Oliver Hirschbiegel. A fire-breathing story of rage and redemption, with James Nesbitt and Liam Neeson at the top of their game. There is an intimacy so urgent that at times you swear you're watching it on stage. As much as I dig it when a film meets and exceeds my expectations, I dig it even more when it doesn't waste time showing off afterward, but rather keeps its pace and drives toward one unpredictable destination after another.

3. THE ROAD, directed by John Hillcoat. Just because THE ROAD takes place in the near future does not make it science fiction, anymore than the lack of robots or rayguns make it not science fiction. It is not only the most thought provoking and soul stirring "What If?" in years, it is with all due respect to the Coens, the most spot-on photographic rendering of Cormac McCarthy's prose as we've yet seen.
2. THE HURT LOCKER, directed by Kathryn Bigelow. When my dad and I saw PLATOON, he said that every 20th century war gets one film that sums up the experiences that made that war unique from all others. Pondering this, we came up with ALL QUIET ON THE WESTERN FRONT for WW1, BATTLEGROUND for WW2, THE STEEL HELMET for The Korean War, and PLATOON for Vietnam. I'm not going too far out on a limb to guess that THE HURT LOCKER will be that film for Iraq or The War On Terror. It casts aside politics and focuses sharply on men doing a job. Many films offer a single image that becomes a powerful anti-war statement. Few offer anything as crushing as Jeremy Renner standing alone in a grocery store aisle to remind us how little we are doing while these brave and crazy volunteers risk their lives on the other side of the world.
1. THE COVE, directed by Louie Psihoyos. In following former "Flipper" dolphin trainer Ric O'Barry on a quest to Taiji, Japan to expose the illegal slaughter of dolphins, THE COVE inadvertently ends up being the most intense social/political thriller of the year. It would be interesting to sit O'Barry in front of the camera and listen to him say "They wouldn't let me inside to see how dolphins and other animals and fish are being treated," but an element of doubt would remain. To answer that doubt, Psihoyos employs a battery of camera technology that would make the Myth Busters envious as he and Barry adapt to each challenge they encounter. What results is an impassioned story of redemption, and some of the most imaginative camera work of the year, all topped off by an ending that I will only describe as "unforgettable," lest I say more and deprive you of the impact.
…and, 'cause what's a Lunch Movie post without at AFTER THOUGHT, here's something that I remembered in the wee hours of 1.1.10 and was embarrassed that I'd forgotten to include:
RED CLIFF, directed by John Woo. I dunno how closely they follow the 208 A.D. battle that RED CLIFF is based on, but it's still a ride worth taking. I can't recall a war movie in years where tactics were so vividly planned and discussed. Most movies these days throw a bunch of fighters together and give you 5 minutes of sloppy-edited gunfire. RED CLIFF's naval battle finale goes on for 15+ minutes, but even before that you get to see the planning, and later what some characters do to improvise when parts of the battle plan fall apart. Witnessing the rationale behind tactical decisions may not appeal to the "action crowd," but to anyone who takes the cost of war seriously, it's pretty damn intense. Fear not, action crowd: a hand-to-hand battle about an hour in, you'll recognize it by the Turtle Formation strategy, is one of the most jaw-dropping action sequences I've ever seen — and the movie isn't even 1/2 done yet!